We have long known that Universities are a core market for Digital Asset Management software.
At last count over 60 Universities across the globe use Asset Bank to manage their digital assets. Our clients include the Universities of Durham, Exeter and Newcastle in the UK and then further afield, Queen's University in Canada, the University of Queensland in Australia, the National University of Singapore, and the Universities of St Thomas and Tennessee in the US.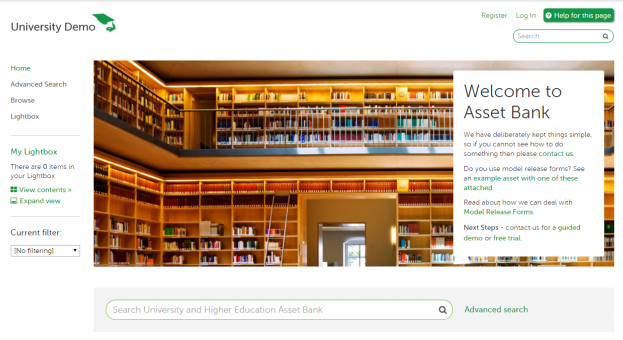 As you might expect we were beginning to think that the market might have matured. But just when we start to think that, we always receive a number of calls and emails from Universities requesting a demo. So why is Digital Asset Management (DAM) so popular amongst Universities?
To find out we spoke to a few of our University clients; Colin Rowe, who is DAM consultant at Archimedia working with a number of Canadian Universities including Queen's and Dalhouse, and Mike Ekern, Director of Photography at University of St Thomas in Minnesota.
| | |
| --- | --- |
| Mike Ekern University of St Thomas[/caption] | Colin Rowe Archimedia |
From our conversations we identified three key characteristics that make DAM a basic need for Universities:
Thousands of assets to be stored and shared
High demand to reuse assets
Hundreds, sometimes thousands of users with differing IT skills and needs
We explore these characteristics a little further with the help of our expert clients.
1. Thousands of assets to be stored and shared
As you would expert from knowledge centres like Universities, especially large ones, they produce a hell of a lot of assets.
As Colin from Archimedia says: 'Universities love DAM because they are extremely large organizations which require a lot of assets for their communications and marketing to promote, and the amount of assets and sharing is large.'
Your average company typically has a few different products that they might want to promote but if you think about a University and all the courses they have, the 'products' they need to promote might run into the thousands. It's easy to figure out why they have so many assets.
As Director of Photography at St Thomas, Mike's view is focused primarily on images;
'St. Thomas staff and student photographers file thousands of images each year. Without good metadata entry and a system that makes that data and its associated images easily accessible, the hours that go into producing those photos would be wasted outside of the initial use of the images.'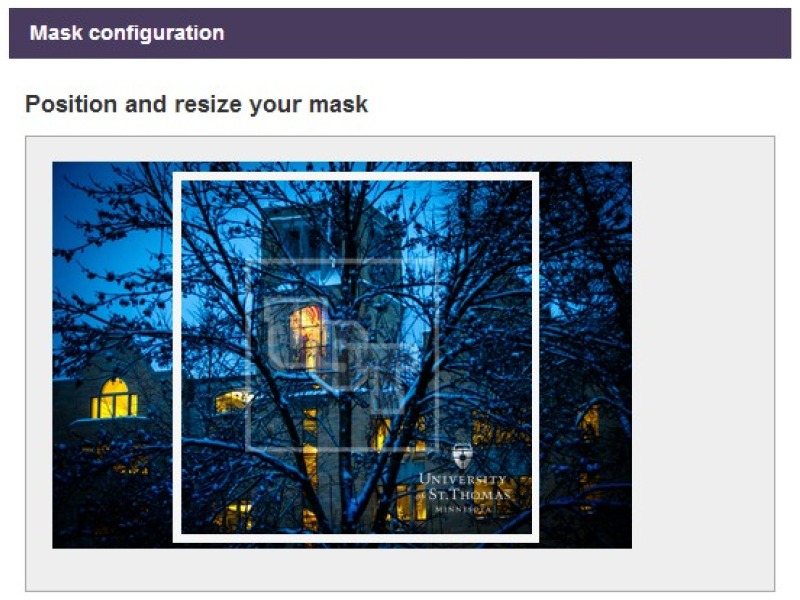 University of St Thomas Image complete with Watermark
2. High demand to reuse assets
Mike's point leads on to the second characteristic, the desire to reuse assets.
As Mike says, if you want to get the most value from your assets your need a DAM system to add metadata so it is easy for users to find and reuse your assets.
Colin reports Universities often don't have an 'ordered structure for organizing assets, everyone fends for themselves, and there is usually a lot of overlap in the creation of assets.'
If you make it easy for users to view and use existing assets, and we should add, make them aware that these assets exist in the first place, considerable savings can be made in reducing the duplication of assets for campaigns when they already exist.
Colin also notes Universities have a greater need for archiving than most organisations;
'There is also usually a longer lifecycle to an asset, as today's communication image is tomorrow's archive document. Archimedia designs life cycles to incorporate these needs for archives and libraries to finally hold the assets when done.'
3. Hundreds, often thousands of users with differing needs
Universities can be vast organisations, often with thousands of users. Take our client, the University of Queensland (UQ), at last count they had over 37,000 users.
Now you don't want to give that number of people the ability to upload, or even download assets from your system. It's also plausible that a large number of assets don't need to be available for all users to view, only the group of people that needs those assets.
Why complicate things?
UQ therefore needed a system which could set different access levels by role (e.g. administrator, user and contributor) and by group (e.g. school, faculty and department).
Each role or group then has different access levels determining their ability to upload, view and download assets and whether they need permissions to perform any of these actions.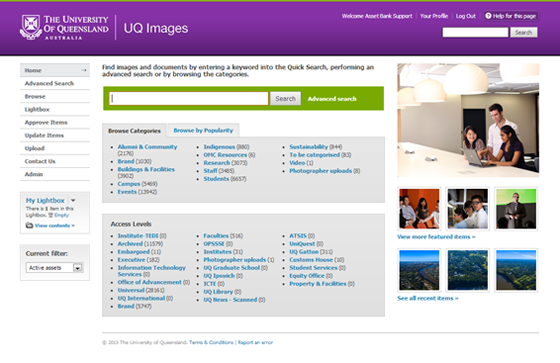 University of Queensland Asset Bank
Mike explains further how a DAM system can be set-up to benefit a large number of users with limited IT skills;
'In higher ed, where a significant portion of communications work (especially web site maintenance and social media) is often distributed to individual departments, the value of a DAM solution becomes very clear.
End users need a user-friendly method to get their photos in formats that fit their CMS and social media templates, and they need to be able to do it without knowledge of resolution, color space or PhotoShop. For these users, whose primary focus may not be communications, having good permissioning (so they don't need to worry about grabbing the wrong image), easy search (Google-like or forget it), and web-based tools to crop or mask images right out of the DAM, are essential features.
Without these, many of the benefits of a DAM system will be wasted as users repeatedly contact on-staff photographers or designers for help in obtaining or preparing images. Likewise, a DAM system that requires a software installation for every new user will be a drain on IT resources.'
In conclusion
So there you have it. Hopefully like us, you now have a better understanding of why Universities love DAM. It seems appropriate to get a final word from our experts;
Mike
'At St. Thomas, we've transitioned from a DAM system that met a few of our criteria to one that meets nearly all of them. The time savings to staff photographers in new shoots that would have duplicated existing assets and in not having to assist in the preparation of images has been significant.'
and Colin
'Archimedia has worked with numerous universities and colleges and it seems like DAM (and specifically Asset Bank's DAM) is a natural fit.
My best take on why they adopt it so easily is two fold. One, it is so damn easy to use at first try. Everything is intuitive, it's not a mirror of a server folder system but a simple elegant system.
The second reason is support. I always joke that if I do not hear from support in a comically short time, I know they are all dead. Over the last 6-7 years all DAM software providers have been working hard to make their systems feature rich with the side effect of sometimes working too hard for innovation but not for stability. Asset Bank is a incredibly stable program, I have run this off Linux as well as VPS and cloud solutions and it just runs well.
The confidence I have in the system and more importantly the people behind the system is how I am able to work with so many Universities and Colleges.'
If you would like to find out more about how Asset Bank can help your University manage your assets please get in touch or try our demo.