We're genuinely excited about the latest Asset Bank features available this month. So excited, in fact, we've made a video. In this short film we give you an overview of the new features available for your Asset Bank.
Upgrade now or read on for more details.
What's new?
Autotagger
Autotagger is a new add-on which allows you to automatically tag your digital assets with keywords. We should be clear the technology available means it's not perfect for every single asset but we still think it has the potential to be a useful tool for when you first migrate all your assets or if you are uploading a large volume of assets on an ongoing basis. Read more about Autotagger.
Single Sign-on
Single sign-on, where your users can use existing network logins to access Asset Bank, is a desirable feature for most enterprises. It also allows you to use existing lists of users and group structures, making it easy to set up access and permission levels for asset usage. Asset Bank already allows Single Sign-on via Google and Microsoft's ADFS. We're now also integrated with Microsoft Azure Active Directory, Okta and Onelogin. Read more about Single Sign-on.
Published lightbox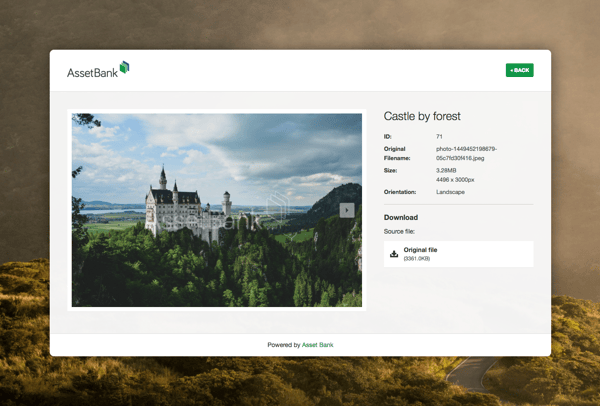 An asset detail page in our new published lightbox
Published lightboxes are a great way of sharing assets with people who don't have access to your Asset Bank. We've completely redesigned our publish lightboxes to make it much easier for your partners to view and download your assets.
More UI enhancements
We are always making improvements to the UI of Asset Bank, but of significance this quarter are improvements we've made to saving and uploading functionalities. We hope you share our excitement in these new features. Read more about all these new features or upgrade now to get them all. You can also get involved in shaping our product roadmap by signing-up to our product feedback emails.