As an organisation grows, keeping track of assets and who is managing them becomes a larger and more complex task. Asset Bank offers a range of tools to both organise workflows and improve engagement.
The key is knowing when to review your configuration and how to make the changes needed. Do any of the scenarios below sound familiar?
"We now have several teams or departments and they are in different physical locations."
"We want to delegate responsibility to manage, create and approve Asset Bank users to different people."
"We need different managers looking after different sets of assets."
"We have sensitive assets that some administrators shouldn't manage."
"We want to tailor content to specific teams, departments or locations."
How Asset Bank can help
Whether it is making sure you have the basics all set up correctly or using some of our more in-depth features, we find that revisiting these key features helps organisations keep their Asset Bank configured to meet their changing needs.
Get organised using folder structures
Having a logical folder structure is key to easily allocating permissions to view, edit and approve assets. Having a folder structure that mirrors their organisation's structure is one way of being able to closely control user and administrator functions. Other options include having folders for each region/country, or using folders to divide your different types of content into easy-to-navigate areas.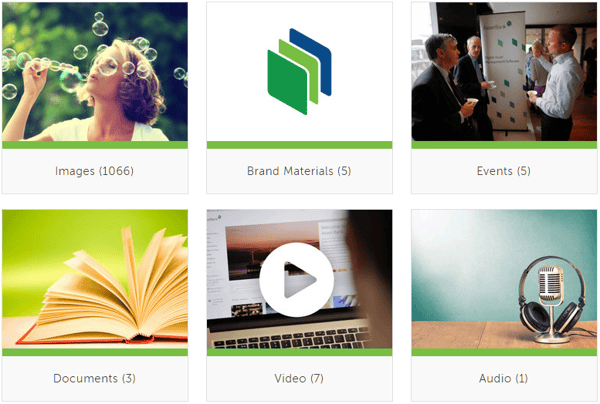 Example folder structure from our public demo
Delegate responsibilities with workflows and groups
By linking user groups to your folder structure you can delegate responsibility for various actions that require sign-off from line managers, reducing the workload for global admins. With user groups that are aligned with folders for each region and department, you can be much more specific about who is responsible for actions within the
asset workflow
. Making it clear who should be approving the download or upload of assets helps to prevent delays and frustrations for users.
Tailor content with 'overrides'
Tailor the Asset Bank experience by displaying messages that are relevant to specific users. From the featured image and welcome message, to a bespoke content page or area that can be aimed at a specific group, there are several areas of Asset Bank that can be customised using Content Overrides.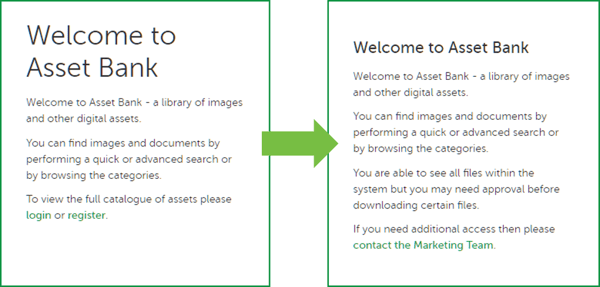 You can use overrides to change the welcome text once your users have logged in
Improve automation with org units
With an Enterprise feature called 'Organisational Units', you can automate the relationship between the folders and the permission groups and give additional power to regional admin users to grant permissions to users that fall under their region.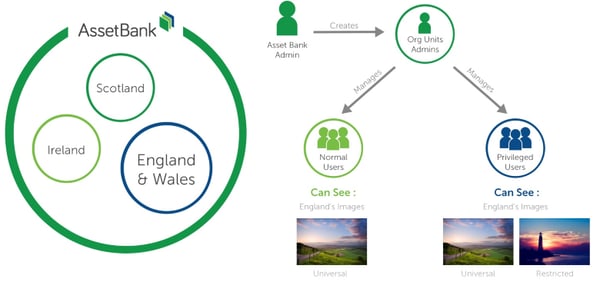 Using organisational units allows more autonomy for each of your teams
---

Page Group have offices based all over the world and their Asset Bank was already set up to give a tailored experience for users in each region. Users could only browse and search assets relevant to their country and there were country-specific welcome messages, featured images and news articles. Users uploading content request this through the team or country specific admin, so each country operates quite independently of each other.
However, there was a bottleneck in the workflow as only the Global Manager had authority to manage, and grant access to assets across multiple regions. The Global Manager wanted to delegate more approval tasks to Regional Managers who are better placed to ensure consistency and accuracy in asset use.
We implemented org-units across the Asset Bank and coordinated this work with some bespoke consultancy, enabling Page Group to create the delegated workflows they needed. By understanding the required structure and fine tuning the configuration we supported Page Group to gain much greater control of their Asset Bank.
"We have improved user engagement and reduced the admin overhead on our global managers by enabling Org Units during our consultancy with Asset Bank"
Mark Newson - Senior Marketing Manager at Page Group