Brand Hub is a new interactive brand guidelines platform created by Bright, the team behind Asset Bank. Brand Hub is designed specifically to tell your brand story and inspire anyone engaging with your guidelines - from teams spanning across your organisation to external partners and agencies.
Your Brand at its best
Reinforcing brand consistency is easy with Brand Hub. You can easily view style information, download fonts, asset collections, find logos at the correct size/format and copy colour values directly to your clipboard. It's intuitive to use and simple to configure.
Brand Hub is hosted in the cloud and pulls assets directly from your Asset Bank. User login credentials are shared between the two systems to make things as seamless as possible and simple to use.
If you're tired of sending outdated brand guidelines in PDF format or linking to static web pages, we think you'll love Brand Hub!
The hero
First impressions count. Displaying a brand-focused static image or looping video clip here inspires and brings your brand to life. Your company logo & a call to action keeps things focused.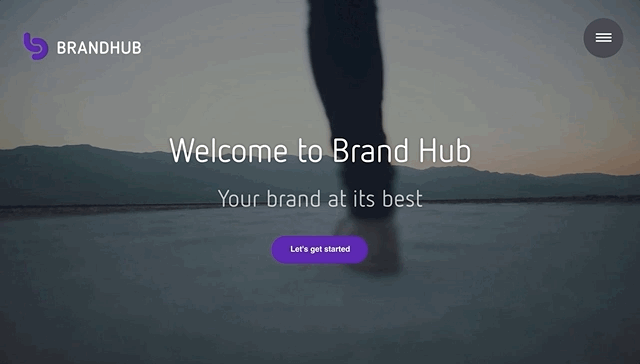 Connect your assets
Asset Bank is the single source of truth for your digital assets, so by connecting with Brand Hub, you'll always showcase the latest and correct versions of your logos and other brand materials.
Fonts
Use your brand fonts across the site. Display font information & add downloads to font packs.
Colour palettes
Add primary/alternative colour information. Simply click on a value to copy it directly to your device's clipboard.
Built for desktop & mobile
Brand Hub looks & feels fantastic on both desktop and mobile devices. In fact, we've designed it to feel as natural scrolling with a mouse as you would swiping.
Simplified configuration & support
At setup, our design-focused consultants will ensure your Brand Hub is a true reflection and inspirational showcase of your brand.
Brand Hub is supported by our dedicated Asset Bank customer support team, based in Brighton UK.
Want to learn more?
Brand Hub is available to all existing Asset Bank Cloud Subscribers for an additional monthly fee, plus a one-time setup cost.
For further details, pricing or to arrange a demo speak to your account manager today.
Meet Vic, head of all things Brand and Marketing at Bright. Some might say she has an unhealthy obsession with celebrity and Arnold Schwarzenegger (please refer to our team video) but what can you do when you look that good in camo gear? Vic ensures that the company culture is not just felt within the Bright HQ but also radiates out to our clients.